Termites can cause major structural damage to homes and other buildings as well as wooden furniture. However, they are not the only insects that destroy structures.
There are other bugs that look like termites and even have similar behavioural patterns.
In this post, we will be exploring 5 bugs that look like termites and how to identify them.
How To Identify Termites
Termites are very small, about the size of ants, which often confuses them. Due to their mysterious nature, termites can be difficult to spot, especially to the untrained eye.
In reality, you're far more likely to spot the signs of termite damage before you spot the termites themselves. Termite species differ in habits, food preferences, size, body features, colour, and even parts of their life cycle.
However, some general features are similar and can be used to identify
termites and distinguish them from ants or other bugs. As with any other pest, correct identification ensures the use of the most effective control methods and allows you to choose the most appropriate prevention steps to avoid future problems.
Termites have different stages in their life cycle from egg to adult and also different types, called castes, which have different roles in the nest and look different.
Therefore, it is important to recognize the different types of termites found in a colony. Termites range in size from 1/8 inch to 1 inch long.
Termites vary in colour from white to brown to black, depending on the species and the life stage of the particular termite. Read more about what termites look like:
Termite Queen And King
In the new nest, males and females are considered queens and kings. They do not leave the nest again and can live for several decades.
The queen feeds and cares for the hatched nymphs until they mature into workers. The workers then take over the care and feeding of the young nymphs and also care for and feed the queen.
The queen's abdomen grows so large that she cannot move from her position in the centre of the nest, so she will not be seen unless the nest is broken.
Read More:
Workers
In most species of termites, a worker termite looks like an insect in the larval stage. Worker termites have soft exteriors and tend to be white or pale brown.
Drywood termites do not have a "worker" caste and instead, rely on nymphs to perform the typical worker role.
Soldiers
Soldier termites have the same soft bodies as worker termites, but with much larger heads that have hard exteriors and large, well-developed jaws.
Alates
In the late stage, termites look like flying ants. However, these insects can be distinguished by inspecting their wings, antennae and abdomen.
Here are the general characteristics:
Length: About a half-inch long or smaller
Features: Straight waist (the area of the body between the mid-section and hind section), straight antennae and wings that are equal in length.
Colour: White to light brown.
What Termite Damage Looks Like
The most obvious signs of a termite infestation are:
1. Tubes of mud crawling up the foundation, walls or other wooden structure.
2. Tiny holes in the wood with lots of tiny brown faeces closing up which may look like thick dirt.
3. White, brown, or black insects that swarm at dusk or night in warmer months
4. Shed wings
5. Hollow sound when you hit the wall or wooden structure.
How To Identify Bugs That Look Like Termites
1. Carpenter ants
2. Flying ants
3. Acrobat ants
4. Carpenter bees
5. Powderpost beetles
1. Carpenter Ants
Carpenter ants don't necessarily look like termites, but both carpenter ants and termites damage to d and can form swarms, which can lead to confusion between the two.
Like termites, carpenter ants form swarms during their mating process, and some have wings. But here are some differences between carpenter ants:
Their waists are tapered, not straight.
They are usually larger than termites.
Their wings are unequal in length, with the hindwings being shorter than the forewings. And while many species of ants are swarming and have wings, carpenter ants are often confused with termites due to their tendency to damage the wood.
2. Flying Ants
Carpenter ants aren't the only ants that can fly. Adult reproductive ants of any species develop wings so they can fly, find a new nest site, mate, and start a new colony.
Ants fly only during the mating season, which occurs in the warm season. Flying ants move in swarms like termites.
Some homeowners see swarms of these bugs that look like termites and assume the worst. But these are the easiest ways to tell the difference between termites and flying ants.
Flying ants have:
Front wings longer than rear wings
Middle narrower than the head and back end
While termites have:
Same length front and rear wings
Middle same width as the head and back end
Feed on wood, paper, and other plant-based products
3. Acrobat Ants
Acrobat ants like to nest in wood, especially damp wood and insulation. When they enter a building, they usually nest in wall cavities.
Because they are found in wood and interior walls, people sometimes confuse acrobat ants with termites. Acrobat ants often nest in the wooden galleries and tunnels left by previous termites or carpenter ants.
Acrobat ant traits:
Acrobat ants are small, only about 2 to 3 millimetres long in most cases
They have a heart-shaped abdomen with a stinger and a narrow thorax
Like other ants, acrobat ants have two bent antennae and two sets of wings. The front set of wings is longer than the back set.
The most distinctive feature of acrobat ants is their reaction when disturbed. They essentially stand on their head and lift their abdomen (behind) and legs in the air.
They may release a foul odour when disturbed, as well.
Termite traits in comparison:
Middle the same size as the rest of the body
Equal-length front and rear wings
Leave piles of tiny dry faecal pellets
4. Carpenter Bees
Like carpenter ants, carpenter bees are mistaken for termites because of the damage they cause to wood, not their appearance. And like carpenter ants, carpenter bees don't feed on wood, they tunnel in it, dig holes and build nests.
Their holes are larger than those of carpenter ants and can be up to an inch in diameter. Carpenter bee damage is not as serious as termite damage, but it can cause ornamental damage and sometimes even structural damage. 
The problem starts when female carpenter bees lay eggs in the wood, creating new populations and increasing the infestation over time. The holes they make in the wood eventually lead to decay and decay.
As far as identifying carpenter bees goes, they resemble bumblebees, but their abdomens are smooth and shiny instead of furry and yellow. They also have no yellow markings on their bellies.
Traits of carpenter bees:
Shiny black body with a patch of yellow fuzz
Make perfectly round holes about the diameter of your finger
Leave sticky yellow waste and piles of sawdust near
5. Powderpost Beetles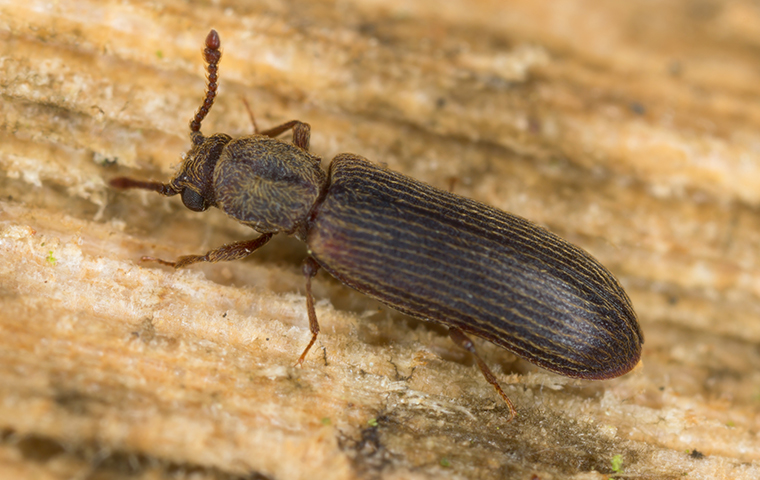 When it comes to home damage, powder beetles can take on termites. They burrow into the wood as they feed, breaking down the wood into a powdery material.
All of this happens below the surface of the wood. Seeing this powdery substance and small holes in the wood are two signs of an infestation.
You are unlikely to see powderpost beetles as they are good at hiding and do most of their work at night. However, one can occasionally be found near damaged wood or near a window, as some are attracted to the sunlight.
Powderpost beetles don't look very much like termites or ants, except for some common insect traits, such as having six legs. They are mistaken for termites more because of the damage they cause than their appearance.
But if you see one, they look like this:
Colour: Reddish brown to black
Characteristics: Slender bodies with drooping heads concealed by a cylindrical body.
Swarming beetles have two sets of wings, one in the front and one in the rear. The front wings are rigid like a husk, and the back wings are the ones they use to fly.
What To Do When You Have A Termite Infestation
If you suspect you have termites in your home, it is important to act quickly. Telltale signs like wood that sounds hollow when knocked and mud tubes let you know they're being taken over.
It pays to be vigilant because termites can do a lot of damage before you even know they're there. The best way to get rid of termites is to call a professional control company.
Even the smartest homeowner cannot match the experience, knowledge and off-the-shelf products and equipment of a trained technician. They might find a large termite colony and years of damage, or they might find one of these less harmful, similar pests.
If you have termites in your yard or on a small wooden structure outside your home, you may be able to do the extermination yourself.  A good way to keep pests at bay is to trim and maintain your property.
Frequently Asked Questions
What Do Mini Termites Look Like?
Baby termites start as white, yellow, clear eggs protected inside a nest. From there, the egg hatches into nymphs. 
Termite nymphs are usually pale white.
Can You See Termites With The Human Eye?
Yes, you can. They are pale and soft, worker termites look closely like maggots.
What Kills Termites Instantly?
Fipronil and hexaflumuron.
Where Do Termites Lay Eggs?
They lay eggs deep inside their nests.
What Smell Does Termites Smell?
They hate the smell of vinegar.
Conclusion
Just because a house has wood damage doesn't mean the culprit is always a termite. There are other types of insects that like to feed on wood or build their houses out of wood, such as carpenter ants, powderpost beetles and carpenter bees.
Because they have termite-like behaviour, they are not always properly identified or treated. Earlier on, we were able to cite 5 bugs that look like termites and how to identify them.
The importance of this is simply to be able to choose the proper methods of handling them whenever they are discovered.