Weed eaters, also known as weed whackers, string trimmers, weed whips and a host of other names, are handy yard tools and should be as big a part of a lawn care equipment as a lawnmower.
There are different types of weed eaters including electric, gas and battery-powered models. Of these, we will be describing the 7 best battery-powered weed eaters for you to choose from.
While the lawnmower usually does most of the heavy lifting, the weed eater cuts down all the grass that the mower can't reach along edges, around trees and other objects.
What Is A Weed Trimmer?
Also known as a string trimmer or weed eater, weed trimmers are power tools for cutting grass and weeds in places that are hard to reach or places you don't want to risk damaging them with a lawnmower, such as landscape beds.
Weed eaters consist of a long rod with a cutting head at the end that spins a single or double nylon rope. 
This rope is the "blade" that cuts weeds and grass.
Why Battery-powered?
As with most other power tools today, you can find quality weed eaters that are gas, electric, or battery-powered.
Therefore, what makes battery-powered weed eaters better or worse than gas-powered and their wired counterparts? 
Let's start with the benefits of a cordless (battery-powered) string trimmer or weed eater. Because they don't produce emissions like gas-powered ones, battery-powered weed eaters are much better for the environment and your health.
They also run quieter and require less maintenance because you don't need to keep fuel for them. They are preferred over corded or electric as they do not need to be connected to a power source.
Now let's look at the downsides. Although not connected to a cord, battery-powered weed eaters have their limitations. First, their battery life is typically around
30 minutes or up to an hour in some cases so they are not ideal for large gardens.
During time-consuming work, you may need to stop and charge the battery in between, which can be extremely inconvenient as some batteries take several hours to fully charge. Battery-powered engines tend to be weaker than gas-powered engines.
7 Battery-powered weed eaters of 2022:
1. Earthwise LST02010
2. RYOBI 40V string trimmer
3. Greenworks 21302
4. WORX WG184
5. WORX WG154
6. BLACK+DECKER LCC222
7. Greenworks 21342
Let's take a look at what each of them has to offer in detail, including the Benefits and Downsides.
1. Earthwise LST02010
Parameters:
Line diameter: 0.065 inches
Earthwise LST02010 might not be the biggest or strongest weed eater, but it makes up for its small size by being portable, easy to use, and most importantly, it is not expensive. The Earthwise model LST02010 operates at 20 volts.
Several users report that the lithium-ion battery lasts more than long enough to trim around their yard. Its 10-inch cutting band will seem small for longer jobs, but it'll come in handy in tight spaces.
When it comes to ease of use, the Earthwise LST02010 can't be ignored. Weighing only 4.4 pounds, it's one of the lightest cordless weed killers on the market and should be light enough for anyone to carry around for any length of time.
The LST02010 is easy to load thanks to the automatic feed spool and swivel function. The edge protection makes it easier to fringe garden beds.
The best part is this Earthwise model costs around $65. For light jobs around the home, there's no good reason not to choose the Earthwise LST02010.
Benefits:
Downsides:
2. RYOBI 40V String Trimmer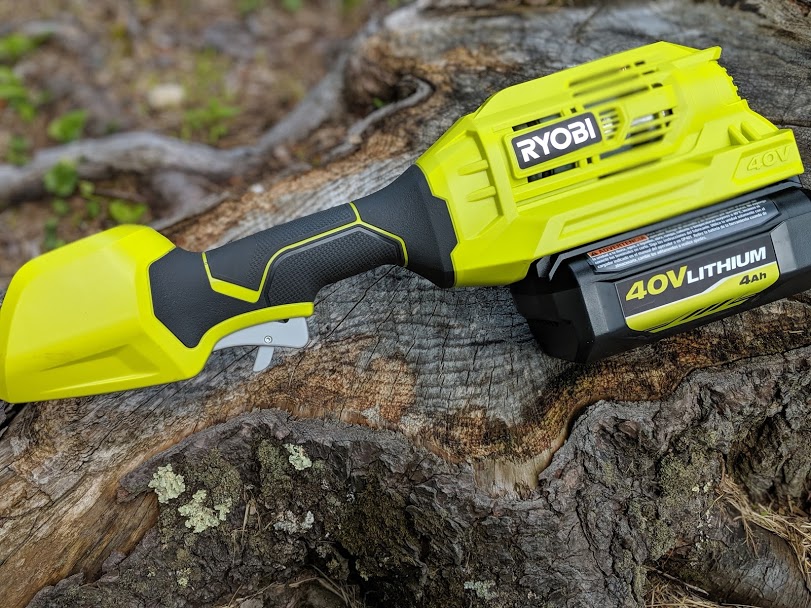 Parameters:
Line diameter: 0.08 inches
The next top selection comes from RYOBI, a manufacturer that specializes in battery-powered tools. This experience is evident in this 40-volt weed eater, which is equipped with special features.
One of the biggest advantages of this model is the wide range of expandable accessories available from RYOBI, which allows this tool to do the job of many.
Another great feature of this RYOBI model is the variable speed trigger, which allows you to adjust the speed of the rope (RPM) as needed to save energy and extend battery life. 
You can also set the cropping range between 13 and 15 inches to save energy.
The RYOBI 40V weed eater is significantly larger and more powerful than our top pick from Earthwise, but that extra usefulness comes an additional cost.
The weed eater is worth the high price tag, making it to rank among the best battery-powered weed eaters of 2022. You will love the results eventually.
Benefits:
Lots of convenient attachments are available
Variable speed control to extend battery life
Downsides:
Read Also:
3. Greenworks 21302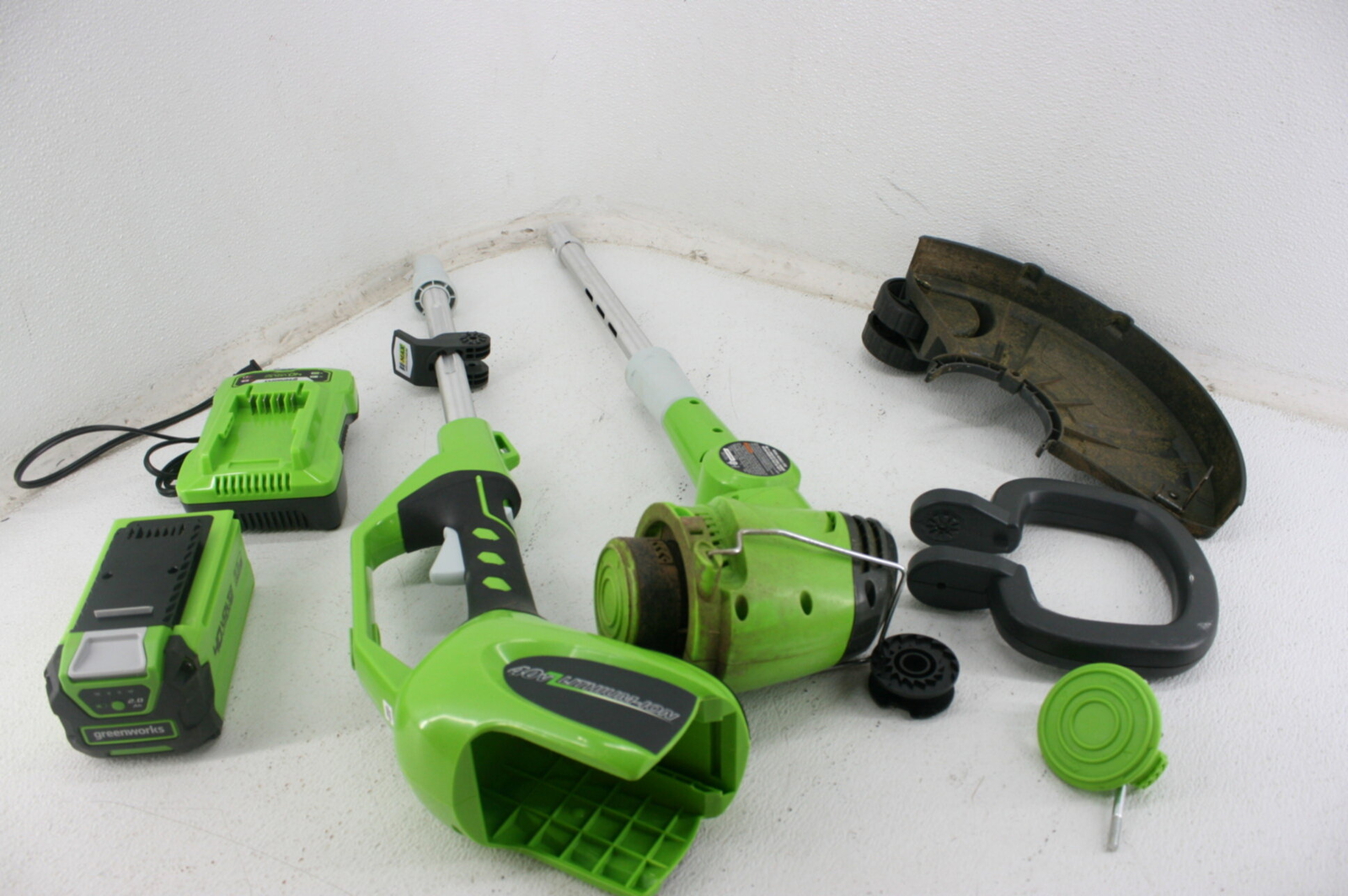 Parameters:
Line diameter: 0.065 inches
This cordless string trimmer from Greenworks strikes a good balance of power, size and affordability. It is powered by a 40-volt battery that can move the strip at a high speed of 9000 rpm to cut tough weeds.
Its 13-inch cutting strip is big enough for regular yard work. For all that, it costs just a little more than $100. The Greenworks 21302 isn't just a grass trimmer either, it can also be used as a mobile edge trimmer with a head that can be rotated 90 degrees.
When removing weeds or cutting edges, the tool's telescopic shaft helps you cut in hard-to-reach places. As with any cordless power tool, battery life will vary wildly depending on lawn conditions, but this tool's 2.0Ah Greenworks battery will typically run for up to an hour on a single charge, which is pretty impressive for a battery-powered weed eater.
Benefits:
Can be used as a wheeled edger
Downsides:
Heavy compared to many of our other top picks
Some users reported that holding down the "on" button can be difficult especially if you have joint pain or similar issues.
4. WORX WG184
Parameters:
Line diameter: 0.08 inches
WORX model WG184, one of the best battery-powered weed eaters, is probably the most versatile one on our record. Like our Greenworks pick, it easily converts to a wheeled edger, and like our RYOBI pick, it features a variable speed trigger to adjust the revolutions per minute (RPM) based on the type of grass you're trimming.
In addition, it has an adjustable handle that helps you find a comfortable working position for every job, and the swivelling head is perfect for slopes and uneven terrain.
Apart from its versatility, another major advantage of the WORX WG184 is its convenience.
The tool has an automatic spooling system with Command Feed, which allows you to load a new line at the push of a button.
Although it's heavier than many of our other picks at 8.6 pounds, it's still light enough for anyone to easily carry for long periods.
All of these features make the WG184 more expensive by an extra $150. For this money, you get a reliable string trimmer with 40-volt cutting power and two 20-volt batteries that are compatible with any 20 V or 40 V power tool from the WORX brand.
Benefits:
It can convert to a wheeled edger
Variable speed control to extend battery life
Downsides:
5. WORX WG154
Parameters:
Line diameter: 0.065 inches
The WORX WG154 is essentially a smaller, simpler and cheaper version of the WG184. This weed eater runs on a single 20-volt battery, so it's not as powerful, but it's a lot lighter at just 4.2 pounds.
Although it's about half the price of the WG184, it still has many of the same special features, including an auto-feed line and edge trimmer remodel. Not only is the WG154 less powerful, but it also has a small 10-inch cutting strip.
While the smaller size means it will take longer to mow your garden, this narrower cutting width can be an advantage when you need to manoeuvre the unit in tight spaces. The adjustable flower guard around the blade makes this model perfect for working around flower beds, shrubs and other landscape features you don't want to damage.
Overall, the WORX WG154 is a solid weed eater for home use at a great price. However, it is not the best option for heavy work, so keep this in mind if you have a particularly dense lawn or a large property.
Benefits:
Downsides:
6. BLACK+DECKER LCC222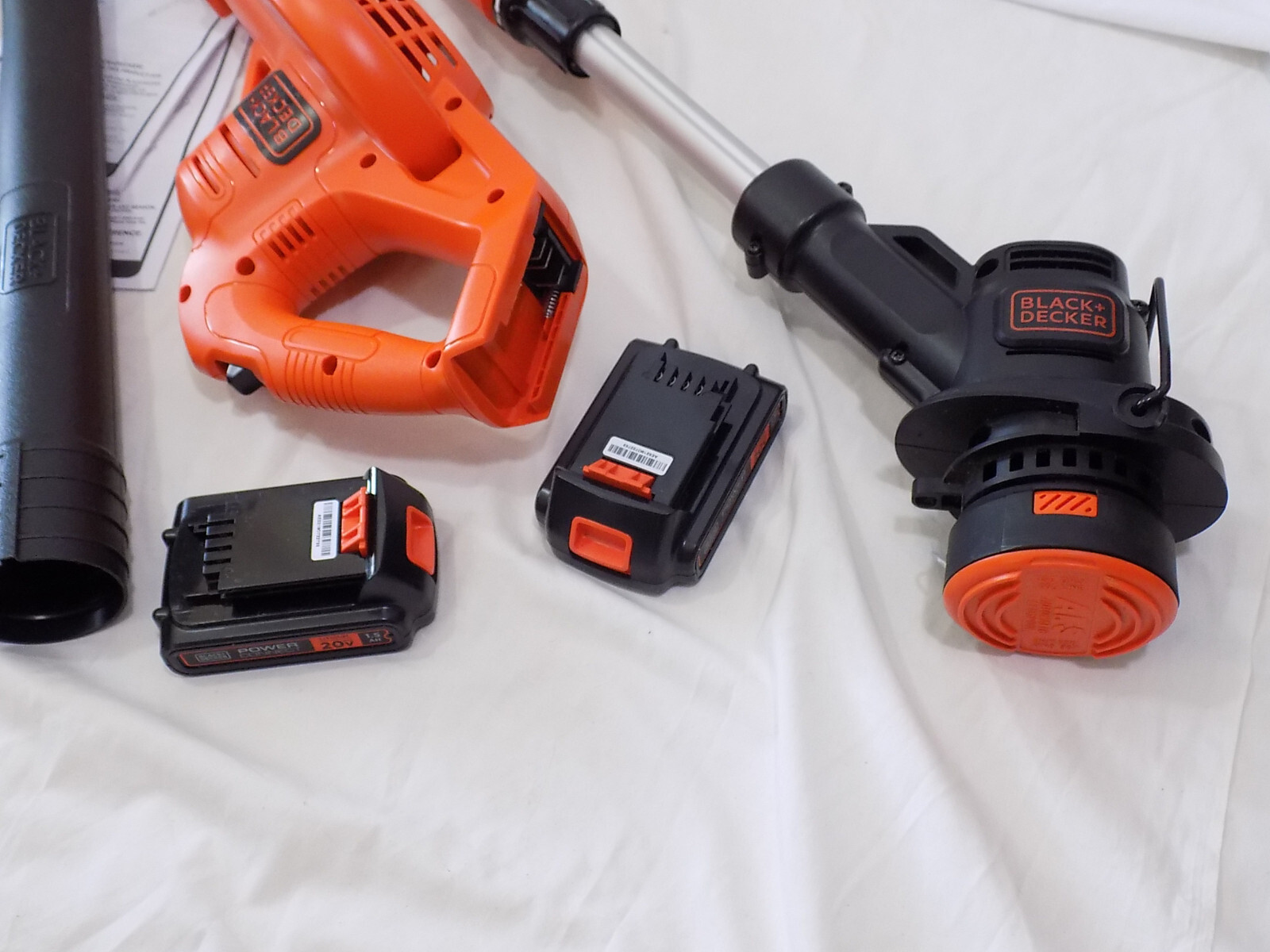 Parameters:
Line diameter: 0.065 inches
This is a great deal from BLACK+DECKER, for a hundred bucks. The LCC222 grass trimmer/edger comes with a broom or small leaf blower to clear up fallen leaves and other debris.
This kit comes with two 20V MAX lithium-ion batteries, so you'll have a spare one if the first fails or the power runs out before the job is done. The LCC222 is lightweight at just 5.2 pounds and easy to use with an automatic spool feed.
It has been reported that this model is even quieter than other electric weed killers, making it perfect for neighbourhoods with noise restrictions. The downside, of course, is that this model is smaller and less powerful than some of our other picks.
Evenn though it is not suitable for larger projects, especially since several reviewers reported that the battery takes hours to charge and only works for 30 minutes, it is still one of the best battery-powered weed eaters of 2022.
Benefits:
Comes with a sweeper tool and an extra battery
Downsides:
Long battery charging time with a short usage time
7. Greenworks 21342
Parameters:
Line diameter: 0.065 inches
Greenworks 21342 weed eater is similar in many ways to the 21302 model of the same brand. The main differences are that this one is smaller, weaker and costs about $30 less.
When you don't need the cutting power of a 40-volt battery, this option saves you money while still providing the benefits of a Greenworks product. Like the 21302, this model converts to a wheeled edger and features a pivoting head and telescopic shaft for improved freedom of movement.
Even with its weaker battery, the 21342 can still move its single line at speeds of up to 9000 rpm. The weaker battery means shorter runtime, however, and the Greenworks 21342 typically only runs for around 25 minutes per charge.
Although this model technically includes an automatic feed line like many of our other top options, several users have reported that the feature doesn't work well. Assume for practical purposes that chain loading with this weed eater will be more difficult.
Even with that flaw, Greenworks 21342 is a solid, affordable option with other handy features that make it worth the money.
Benefits:
Converts to wheeled edger
Downsides:
Experiences short battery run
The line doesn't feed automatically
Maintenance Of Battery-powered Weed Eater
If you must use a weed eater for a long time, you should be able to take care of it. Here's how:
Step 1: Clean And Inspect The Strip
Clean the strip to keep it in good working order. Dust, dirt and clinging grass clippings collect on the debris guard and head and can lead to inefficiency and possible downtime if not cleaned.
Wipe trimmer parts clean after use and before storage. Periodically clean more thoroughly with a stiff brush and damp cloth.
Use cotton swabs lightly moistened with machine oil to clean the air inlets and outlets and other hard-to-clean areas.
Step 2: Replace The Trimmer Line
It doesn't matter whether your weed eater model is gas or battery-powered, both require regular trimmer line replacement. However, the type of weed eater head will determine how you replace the line.
Battery-powered ones have a one- or two-line header which means there is a piece or two of string sticking out for cutting grass. Follow your weed eater manufacturer's instructions for replacing the line.
Step 3: Store The Trimmer Properly
Where and how you store your weed eater when not in use is critical to keeping it in top working condition. Store the trimmer in a well-ventilated shed or garage.
Make sure children do not have access to the weed eater or other tools and wait for the engine to cool before storing it.
Clean it with a stiff bristle brush then tighten all screws and nuts.
Conclusion
Battery-powered weed eaters give you the clean-looking garden you want without the nuisance of a petrol engine. And you don't have to break the bank to do it. Our selection of the best battery-powered weed eaters of 2022 gives you value for money and takes care of all your lawn mowing needs.
Frequently Asked Questions
Do I Need A String Trimmer/Weed Eater?
If you want a neat lawn with clean edges, yes, you need a weed eater. 
Are Battery-powered Weed Eaters Any Good?
Yes. Some even say they're better overall than gas weed eaters.
Can You Use A Battery-powered Weed Eater On Wet Grass?
You're not advised to do so because wet grass is more difficult to cut and will wear out your battery faster.