Mowers with mulching can cut grass blades into tiny pieces that nourish the garden. Not only does mulch eliminate the need for bagging grass clippings, but it also reduces the amount of fertilizer needed to treat the garden.
Mulching mowers help you keep your garden green and tidy. But what should you look out for when buying a mulching mower? There are so many options, so we researched the field and ranked the 10 best mulching mowers for homeowners.
Learn more in our article below. We've covered everything on the best mulching Lawn Mowers of 2022.
10 Best Mulching Lawn Mowers of 2022
The list below features mowers that are designed to produce the fine grass clippings needed to mulch a garden. The best mulching mowers are listed for each category, including petrol and electric models for large and small gardens.
1. Craftsman M105
The Craftsman M105 features settings for chopping, collecting, or side-discharging grass clippings and a 140cc Briggs and Stratton engine. It also has dual-lever height adjustment with six different heights (3.75 inches max cutting height).
The power source is Gas, the Engine of 140cc, the Weight of 65 lbs, and the Cutting Width of 21 inches
Advantages: 3-in-1 deck allows for an easy transition from mulching, side discharge, and collection, Durable Briggs and Stratton engine, Folds away for convenient storage.
Disadvantages: Some assembly is required and is Not ideal for large yards.
2. Pulsar PTG1221
It is a Gas Push Lawn Mower with 7 Position Height Adjustment, WhiteThe Pulsar PTG1221 combines strength, efficiency, and affordability.
It has a powerful 173cc 4-stroke engine that can handle tough terrain all year round. With seven adjustable heights (up to 3.75 inches), it's ready for any type of grass, even when your lawn just needs a light trim.
Its Power Source is Gas, the Engine of 173cc, its Weight of 77 lbs, and its Cutting Width of 21″
Advantages: 3-in-1 deck (mulching, side discharge, and collection options), Powerful engine, Single-lever height adjustment, 10″ rear wheels for increased maneuverability
Disadvantages: Not Self-Propelled, Assembly Required.
3. Greenworks MO13B00
The affordable, electric Greenworks MO13B00 has everything you need to mow your lawn quickly, quietly, and comfortably with ease. Because this lawnmower is electric, you don't have to deal with the hassles of petrol and oil or worry about the fumes and emissions of a petrol lawnmower.
With 13 amperes of power, this lawn mower from Greenworks can handle even the toughest lawns.
At just 56 pounds, it's also one of the lightest devices on our list.
Its Power Source is Electric, its Electrical Rating is 13 amps, and has a Weight of 56 lbs.
Advantages: Electric motor is quiet and emission-free, 21-inch cutting width and 7 height settings, and Lightweight at just 56 pounds.
Disadvantages: Not wireless, Some reviewers have complained about weak folding functionality.
Read More:
4. Craftsman M215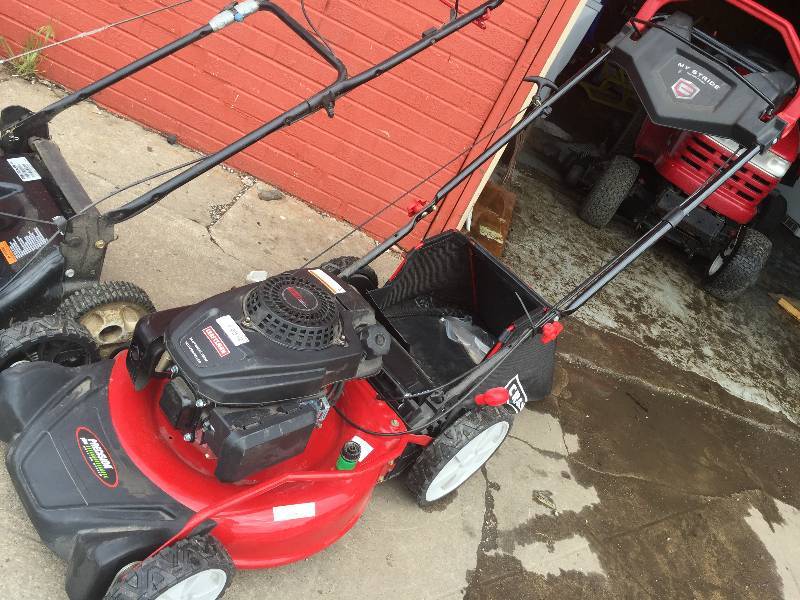 This Gasoline Engine has enough power for most lawns. This feature makes launching quick and easy. At 82 pounds, this mulching mower is heavier than most units on our list, but it's self-propelled with variable-speed front-wheel drive to lighten the load.
Its Power Source is, has a Gas Engine of 159cc, has Weight of 82 lbs and Cutting width of 21 inches
Advantages: Variable speed front wheel drive, 21″ cutting width means more coverage with fewer transitions, 11″ serrated rear tires make this mower easy to maneuver
Disadvantages: Loud, hearing protection recommended and Assembly required
5. Lawn-Boy 17734
The Lawn-Boy 17734 offers smart lawn mowing at an affordable price. Its Tri-Cut system ensures an even cut and efficient mulching. Reviewers love the electric start feature, which lets you just turn the key and go.
This mower comes with a 2-year warranty and a 3-year TruStart commitment, which guarantees your mower will start in just a pull or two, or LawnBoy will fix it for free.
Advantages : Self-propelled with rear-wheel drive, Tri-Cut system ensures an even cut and efficient shredding, Large capacity bags
Disadvantages: The height adjustment system can be tricky to operate, the Rear wheel drive system makes reversing difficult, Cutting deck is deep and cambered for more effective mulching capacity.
6. PowerSmart DB2322S
This PowerSmart mower is the heaviest mower on our list, but it has a self-propelled rear-wheel drive for easy moving.
Advantages: Self-propelled, 22″ cutting width means more coverage with fewer passes, Powerful 196cc engine
Disadvantages: Difficult height adjustment, Some reviewers complain about a porous back pocket that allows dust to get through
7. Powerworks MO60L513PW
Power works MO60L513PW has a brushless electric motor that gives you all the power of a petrol lawnmower but without noise or fumes. This mulching mower features a seven-position, single-lever height adjustment system, and the 60-volt lithium-ion battery gives you up to 70 minutes of clean, quiet operation.
Advantages: Powerful 60 V brushless motor, 5.0 Ah battery, and charger included, Upright storage
Disadvantages: Larger gardens require an additional battery, Some reviewers reported difficulty charging the battery.
8. GreenWorks 2500502
The GreenWorks 2500502 is lightweight and heavyweight. At under 43 pounds, this is the lightest mower on our top 10 list, but it still packs a punch with a DigiPro brushless motor.
This is the perfect quiet and easy-to-use option for small gardens. This cordless lawnmower comes with a charger and two lithium-ion batteries that are compatible with other GreenWorks power tools.
Advantages: Including 2 batteries (4.0 Ah and 2.0 Ah), 21-inch cutting width means more range with fewer transitions, 11-inch rear tires with jagged tread make maneuvering easier
Disadvantages: 19-inch cutting width is smaller than similarly priced mowers, Some reviewers complain of battery life decreasing over time.
9. EGO Power+ LM2100SPEGO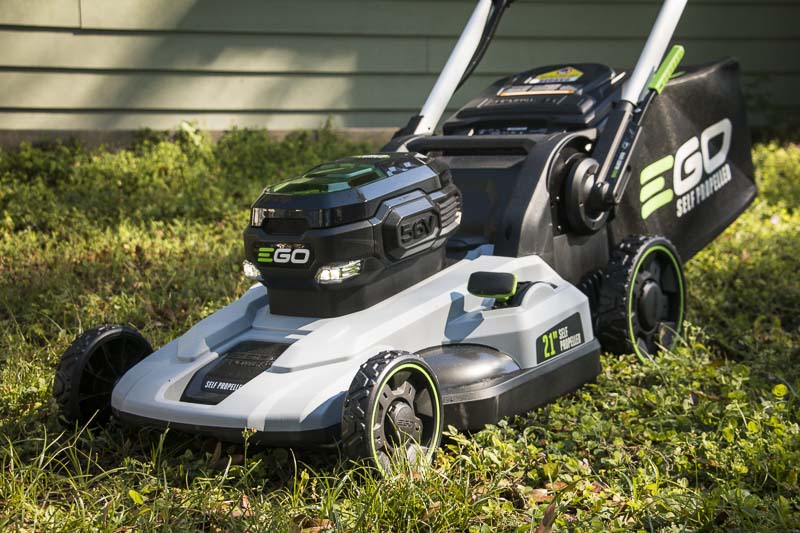 The EGO Power+ LM2100SP has a lot to offer. This versatile mulching mower is lightweight and easy to use. With a 56V battery, it has the power to handle tough grass and a runtime of up to 60 minutes. LED lights, weather-resistant
It has adjustable self-propelled speed, a maximum cutting height of 4 inches, and a cutting width of 21 inches. It can also be folded and stored vertically.
Advantages: Variable speed front wheel drive, LED lights for early morning and late afternoon mowing, One-handed 7-position height adjustment lever
Disadvantages: Battery and charger not included.
Mechanism of Action of Mulching Mower
Power is important when it comes to mulching. Grass clippings caught in the deck require more force to continuously cut the swirling grass.
This means that the power source for your mulching mower should be an important part of your decision-making process. Some mowers are Noisier, require more maintenance, can be difficult to start, and emit pollutants that are toxic and harmful to the environment.
Many electric models can fulfill the mulching call. These are both battery-operated (limited run time and require charging) and corded (requires a long, durable extension cord).
You also need to consider what type of experience you're looking for when choosing your Power Source. Gas lawnmowers get the job done, but they have "starting voltage".
You have to pull the recoil cord to turn it on, and that doesn't always happen on the first few tries. Weather or other factors can make your gas Lawn Mower very difficult to operate.
Not to mention the difficulties that come with oil and gas machines. Corded electric mowers are as simple as plug-and-play. Just grab your extension cord, plug in the mower, press the start button and you're on your way to a freshly mown garden.
The only downside is that you are plugged into an outlet and may need to make some mid-pruning changes to reach every corner of your garden. Don't forget to mow the grass on the wire.
Cordless lawnmowers have one advantage. They offer the shortest time from storage to mowing. Simply insert the battery and off you go. The problem with cordless mowers is that they don't run as long as their petrol and corded counterparts.
Depending on the size of your garden, you may need two (or even three) batteries to get the job done. It can often take hours to fully charge batteries, so you need to plan to ensure you don't run out of energy on a half-mowed lawn.
Although batteries don't come cheap, many of them are compatible with other tools from the same brand, which is good for those who are loyal to a particular power tool manufacturer. 
Frequently Asked Questions About Mulching Mowers 
Is It Better To Mulch Or Bag The Lawn?
The preferred method for a thick, healthy lawn is mulching grass clippings. Chopped grass clippings act as a natural fertilizer, returning the nutrients from the clippings to the soil beneath the grass. 
Thick tufts of grass can cause unhealthy thatch, so it's important to use a lawnmower or shredder kit and keep the blade sharp.
What Is The Difference Between A Mulching Mower And A Regular Mower?
Mulching mowers are designed to keep clippings in the hood of the deck. They twirl around the bell. Regular lawnmowers lack these features and often eject clippings down the side of the hood or into a rear bag after the first cut. 
Can Mulching Mowers Shred Leaves?
Yes, shredder mowers can shred both leaves and grass clippings. It may even be more beneficial to shred the leaves with the weed as they will compost faster together than alone. 
Final Thoughts
Mulching mowers lift cut grass into the deck hood and cut through it multiple times before returning it to the ground for collection from the ground. This requires a knife with multiple cutting edges and enough space on the cutting deck to allow the clippings to circulate.
There are many options to choose from when choosing a mulching mower. We've ranked options to find the best of the best on the market.
Now that you've seen our list, you're better equipped to choose the right mulching mower for you and your garden.