Bed bugs are just one of the many bugs which are regarded as public health nuisances. Bed bugs, this is because they are both parasitic in nature and love to feast on blood.
These bothersome creatures can be mistaken for many other bugs and in this write-up, we will be examining 9 bugs that look like bed bugs. We will also be discussing;
how to tell them all apart
where each of them can be found and
the health hazards they pose.
There is no proof that bed bugs transmit any kind of disease but their bites cause physical and psychological discomfort. Learn how to easily identify bed bugs here:
What Does A Bed Bug Look Like?
The bed bug is brown in colour and measures about 7mm in length. Adults have flat bodies and are about the size of an apple seed but after feeding on blood, the body becomes round and attains a red colour.
Bed bugs are wingless and hence cannot fly but they are fast movers, scurrying over ceilings, beds and walls. The juvenile ones, called nymphs, shed their skin multiple times before reaching maturity and must suck blood before each moult.
9 Bed Bug Look-Alikes
Some bugs share remarkable similarities with bed bugs. The resemblance can be so much, it makes it hard to tell them apart.
Here are 9 bugs that look like bee bugs:
Bat Bugs
Booklice
Carpet Beetles
Cockroach Nymphs
Spider Beetles
Mites
Ticks
Fleas
Head Lice
1. Bat Bugs
Bat bugs like bed bugs have an oval body and a short, broad head attached to the prothorax. Apart from sharing a similar name to bed bugs, they look the most like bed bugs compared with any other insect.
The only discernible difference in their appearance is the longer hairs on the head of a bat bug. The main difference between these two identical bugs is that bat bugs have longer and more hair on their thorax.
Places To Find Bat Bugs
Bed bugs thrive in colonies most commonly found in attics, behind walls, or in chimneys. You can also find them in tears and creases in fabric, including your
mattress.
Health Hazards
Bed bugs feed primarily on the blood of bats and only bite humans when their host is unavailable. Although bed bugs are not known to transmit disease to humans, their presence can cause distress and insomnia in some people.
2. Booklice
Booklice are differentiated from bed bugs mainly in their shape, which is longer and thinner much like a termite's, with equally long and thin antennae. They usually prefer to eat mould than to suck blood.
Their colour varies from pale white to grey or brown. Booklice are bugs that look like bed bugs.
Places To Find Booklice
Booklice can be seen in mouldy surroundings such as where old books and items are kept.
Health Hazards
These insects are annoying but not a  threat. Booklice don't bite, though when dead, their bodies could combine with dust to aggravate asthma attacks.
Read More:
3. Carpet Beetles
Carpet beetle adult species vary in length, are oval, and can resemble bugs. There are many types of carpet beetles, including black, common, furniture, and variegated carpet beetles.
These little pests feed on materials of animal origin such as fur, wool, feathers or leather. Despite their name, they don't like to eat the synthetic materials in today's carpets.
They make an exception, however, if your carpet contains a mixture of synthetic materials, animal matter, food, sweat and oils. Keep your environment clean if you don't want these critters around!
Places To Find Carpet Beetles
You can usually find carpet beetles around the edges of carpets and rugs, under upholstered furniture, or baseboards.
Health Hazards
Carpet beetle larvae don't pose much of a threat to you, but they can do significant damage to your carpet or favourite wool sweater. Carpet beetles leave holes in these materials and leave their old skin behind after moulting.
4. Cockroach Nymphs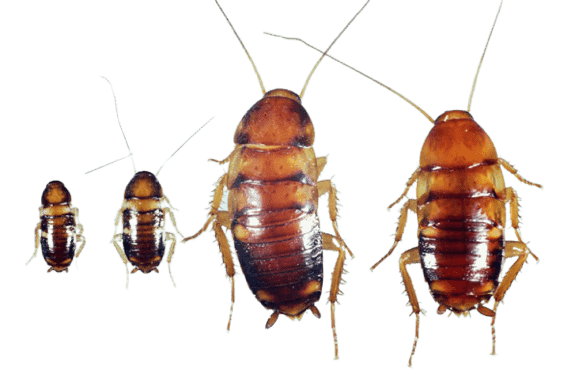 Cockroach nymphs or young cockroaches are often confused with bed bugs because of their similar colouration.
These young varieties of the most common cockroaches include German cockroaches, American cockroaches, Oriental cockroaches and Brown-banded cockroaches.
Cockroach nymphs are oval in appearance and have long antennae and long, bristly legs. Depending on the species, the colour varies from reddish brown to dark brown and from light brown to black.
Places To Find Cockroach Nymphs
Cockroaches thrive in moist areas where food is prepared or stored. Primary breeding grounds include restaurants, supermarkets, commercial kitchens, sewers, and steam tunnels.
You may even see cockroaches hiding in your basement, bathroom, or basement. Cockroach nymphs in your home can be a sign of an infestation.
Health Hazards
Because bacteria attach themselves to cockroach bodies, they can transmit diseases like salmonella and gastroenteritis to humans. According to the Asthma and Allergy Foundation of America, people who are allergic to cockroaches may experience asthma attacks.
5. Spider Beetles
Spider beetles can look like bed bug that has just feasted on blood. What is a spider beetle? These insects resemble small spiders because of their long legs and large, rounded abdomens.
The American spider beetle is a glossy reddish-brown to black colour, with a spherical abdomen, and light yellow legs, head, thorax, and antennae. Their bodies are also covered in hair, with a head that is directly connected to its body.
Places To Find Spider Beetles
Spider beetles can forage in flour mills, pantries, warehouses, and attics that contain bird, rodent, or bat droppings.
Health Hazards
These pests can eat and infest your food.
Although uncommon, their bites can be uncomfortable for humans and pests.
6. Mites
Mites and bed bugs can look similar to some people. There are thousands of mite species, many of which live on animals.
Mites are tiny and many can be seen with the naked eye. They are 2 mm or less in length, have eight legs, and have little or no segmentation.
Places To Find Mites
Mites love outdoor territory. Some feed on decaying organic matter, while others feed on insects and other mites.
Health Hazards
According to the World Health Organization, some mites are carriers of rickettsiae diseases such as typhus and various viral skin diseases.
7. Ticks
Ticks are blood-sucking parasites, like bed bugs, and they can look alike until you look closely. The crucial difference? The number of legs.
Bed bugs, which are insects, have six legs and ticks, which are arachnids, have eight. Ticks attach themselves to people, pets, livestock and wild animals.
There are many types of ticks, each with different physical characteristics. Most ticks are small, dark-coloured, and flat when not feeding.
Places To Find Ticks
Ticks are most commonly found on their host or outdoors in moist, shady areas with tall grass or overgrown vegetation. Occasionally, a tick can be found indoors after being brought inside by pets.
Indoor tick infestations are rare but can occur if a female tick lays her eggs in your home.
Health Hazards
Ticks can transmit many pathogens such as Lyme disease to humans, pets and other animals. If these diseases are not treated, many can become life-threatening.
It is important to know how to identify, identify and remove a tick.
8. Fleas
Fleas can be another doppelganger of bed bugs. Fleas can move quickly through fur, woven fabrics, and hair because of their narrow bodies, spiny legs, and backwards-facing bristles.
Their back legs make them excellent jumpers. These bloodsuckers feed on cats, dogs, mice, birds, humans and many other warm-blooded animals.
Places To Find Fleas
Dogs and cats are feasts for fleas, and these pets are the main way fleas enter homes. Look for flea larvae in cracks in floors, carpets, mattresses, or pet litter.
Fleas especially like places where they can feed on food, animal waste, and droppings.
Health Hazards
Although rare, fleas can transmit diseases such as typhoid and plague to humans. Some people and pets can also experience severe allergic reactions to flea saliva.
Your pet may suffer from anaemia due to blood loss.
9. Head Lice
Lice or bed bugs? These two pests are often confused.
Head lice only affect humans and are usually grey but can take on the colour of their host's hair. The female is 1/16 to 1/8 inch long and flat while the male is slightly smaller.
Lice cannot jump or fly. If you have lice and don't receive treatment, the lice will continue to feed on your blood and may pass dark red stools on your scalp.
Places To Find Head Lice
Lice usually congregate near the back of the head and behind the ears.
Health Hazards
Head lice can cause severe itching on the scalp and disrupt sleep according to the Centers for Disease Control and Prevention (CDC). Scratching too hard can increase the risk of secondary skin infection.
Knowing safe and effective ways to get rid of lice can help you control these risks.
Do You Have a Bed Bug Problem?
Although bed bugs have many replicas, some signs can point to a bed bug infestation. Where did you find the suspected bed bug?
Not all bed bugs hide in the mattress, so finding the bed bug can help you identify it. Once you find a bed bug in your bed, you are more likely to have bed bugs.
Is your head itchy? Then you probably aren't dealing with bed bugs. Keep in mind that bed bug bites alone are not enough to diagnose a bed bug infestation as their bites are similar to flea and mosquito bites.
Bed bug removal is expensive, so make sure it's a bed bug and not a cocroach or other pest problem. Knowing how to prevent bed bugs and how to recognize them is important to control them.
When to Call a Pest Control Professional
If your examination hits a dead end and you can't identify the bug you are dealing, with consult an expert. A pest controller in your area can help you identify the bug that has you trouble.
Get Help When Bed Bugs Are Visible In Large Numbers
Bed bugs are small, but not invisible. If you notice a large number of bed bugs in an area, it's time to call a professional. Bed bugs don't have nests or colonies, so an increase in the visible population means the infestation has gotten much worse.
Contact Bed Bug Experts When Bugs Expand Locations
Bed bugs prefer mattresses and furniture as they can easily hide and access a food source. In places where the bed bug population has become too large for typical hiding spots, it is time to call an exterminator.
Frequently Asked Questions 
What Else Is There Besides Bed Bugs?
There are ticks, chigger mites, scabies mites, pubic lice and a lot more.
Where Are Bed Bugs Found?
In the seams and tags of the mattress and cracks on the bed frame.
What Health Risks Do Bed Bugs Pose?
Itching and insomnia. Excessive scratching may lead to a secondary skin infection.
How Are Bed Bug Bites Diagnosed?
No test can specifically diagnose a bedbug bite but they usually bite in rows and they resemble mosquito bites.
How Did I Get Bed Bugs?
You probably got them from used bedding and furniture.
Who Is At Risk For Getting Bed Bugs?
Anybody who visits an area with bed bug problems can get them.
How Are Bed Bugs Treated And Prevented?
Regularly wash and heat your bed sheets, blankets, bedspreads and any clothing . You may need to call in experts if the situation gets out of hand.
Conclusion
Bed bug bites can cause a variety of physical reactions and symptoms, including itchy rashes, hives, and lesions. Even in the absence of physical symptoms, the psychological stress caused by an infestation can be very difficult to manage.
It may be time to call an exterminator if physical symptoms worsen or negative psychological effects increase. You now know 9 bugs that look like bed bugs so you can use the appropriate methods to target them.